So, where to start.
I was planning on hiking the PCT this year. For those that don't know this is a hiking trail that goes from the Mexican border all the way up to the Canadian border through California, Oregon and Washington.
It starts with around 700 miles of desert then a couple hundred miles of high altitude snowy mountains in the Sierra Nevadas then a 1000+ miles of windy wet forests ( that's a simplification but you get the idea).
With the lockdown I had to cancel this year but still aim to do it next year.
I had my gear list ready to go but now I have even more time to think about the gear I could use on this trail.
One Layer to Rule Them All
I started thinking about a active mid-layer of clothing I could use throughout the entire trail, through all the different conditions.
The ideal piece of clothing would be:
As lightweight as possible (I have to carry it after all)
Super warm in cold conditions but also breathable in warm ones- breathable enough to be active in, warm enough to sleep in
Anti-microbial, would be using it day in, day out for 6 months
Keeps its insulative properties even if wet
Wind resistant
Protects from Sun's UV rays
Such a piece of gear could be very versatile, throughout the entire trail. What's more the right piece of gear could free up other options.
For example, if it was warm and breathable enough it could enable me to replace the need for having both a puffy jacket and an active mid-layer.
This is the problem with a lot of puffy jackets, they're too warm for active hiking use and if they're down puffies then you can't risk getting them wet, so they only live in your pack until you get the camp.
This then forces you to bring an active mid-layer that you can use when hiking in case it gets cold.
On top of this, this hypothetical dream piece of gear would have enough insulative properties to enable me to increase the r-value of my sleeping pad set-up or add extra warmth on top. This could help me save weight in either my sleeping pad or sleeping bag/quilt.
If it protected from the sun's UV rays it could replace the need for a sun hoodie sun or an umbrella. Likewise with wind resistance and a wind-shirt.
All of these potential multi-functional uses could mean the piece of gear itself could be heavy but still save me pack weight overall.
Alpaca Wool is Good For Hiking
After doing a lot research I settled on Alpaca wool as the material that could tick all of these boxes.
This table compares Alpaca wool to another popular hiking material, Merino wool.
| | Merino | Alpaca |
| --- | --- | --- |
| Weight | Heavier | Lightest Wool |
| Fiber Structure: | Solid | Semi-Hollow |
| Thermal Capacity: | Warm | 5x Warmer |
| Water Retention: | 30% Absorption of Weight | -0% |
| Protects against UV rays | Yes | Yes |
| Wind Resistant | Yes | Yes |
| Moisture Wicking | Yes | Yes |
| Tensile Strength: | High | Highest |
| Odor Resistant: | Yes | Yes |
| Hypoallergenic: | No | Yes |
These are both great materials but the key differences of much higher thermal capacity and Alpaca's water shedding capabilities make it the perfect choice.
Alpaca Base Layers & Hoodies
In recent years a few companies have also recognized the wonders of Alpaca wool for hikers.
There are many great companies offering Alpaca base and mid layers and even hoodies such as:
And many options for Alpaca socks, heavy blankets and throw blankets.
These are all great but I was on the quest for an active layer that could also replace my puffy jacket.
Alpaca Ponchos
Counter-intuitively this led me to ponchos.
As an active layer ponchos are great because they allow for greater temperature control. If you get too hot you can just air yourself out or flip it over your shoulder.
If you just need an outer layer for wind protection, not warmth, you can just have the front flap on, then drap back flap over your bag.
All this easily variable temperature control means it's okay to make the actual poncho super warm even if it's being used as an active hiker layer. When hiking you can regulate your temperature easily and then at camp it can become as warm as your usual puffy.
The design of the poncho also makes it easier to lay flat if you're incorporating it in to your sleep system.
If you want to wear it in bed like you would a puffy this is also more comfortable. If you just want to warm your core you can put your arms outside easily but if it's super cold you can bring your arms in under the poncho too.
The variability of the poncho which makes it the perfect piece of gear for the perfect mid-layer. Couple this with variability of Alpaca too and you have unique multi-purpose piece of hiking gear.
Can a Super-Warm Alpaca Poncho Also Be Ultralight?
So, the right Alpaca poncho can replace the need for an active hoodie and camp puffy as well augment our sleeping system.
Now we just need to find the right alpaca poncho that is also ultralight. How heavy can we get?
Our ideal poncho would replace my:
Enlightened Equipment Torrid Apex – 7.85oz (223g)
Appalachian Gear Company Hoodie – 13oz (367g)
So if we can find an Alpaca Poncho that weighs 20.85oz (591g) then we can get all the different benefits from one piece of gear without any extra weight.
There is no Alpaca poncho out there specifically designed for hikers, so there's a gap in the market if any MYOG-er out there wants to explore it!
Alpaca Poncho- The Perfect Hiking Mid-Layer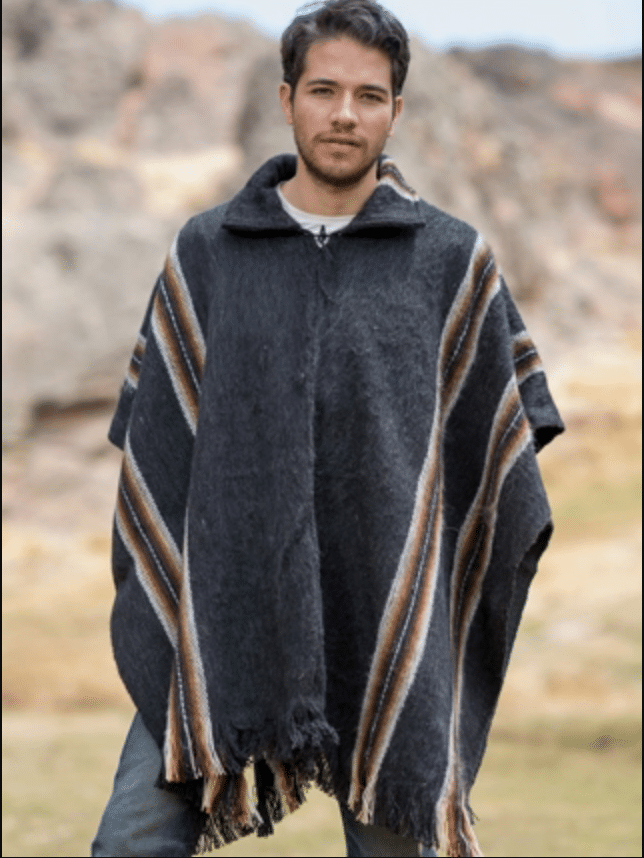 I settled on this Gamboa Alpaca Poncho.
This poncho seemed to have the best warmth to weight ratio out there. Mine (a non-hooded poncho) weighed 19.7oz (560g), so an ounce or so lighter than my Apex and Hoodie.
These are made in Peru with Alpaca wool and feels like a high quality product.
It's super warm. It can drape over my backpack if I want, easy to ventilate when hiking. It's super soft, even on bare skin.
I'm still doing further tests with it to test the extremes but it's ticking all the boxes I outlined above and I think will be coming with me on my next big hike.
'Perfect' doesn't exist but this is pretty damn close and plus it comes with the added bonus of giving you Clint Eastwood-esque confidence.