When starting your A.T. thru-hike there are many options on how to get to Amicalola Falls from Atlanta. Which one you choose will depend on your budget, how reliable and easy you want the trip to be and how much time you have. I've outlined all the main options in detail below.
Uber Is Easiest!
By far, the easiest way to get there is simply get an Uber ride there. This is what I did when I started my own Appalchian Trail thru-hike in 2019.
Lots of people overcomplicate this because there is so much old info out there but really in this day and age, it's just that simple.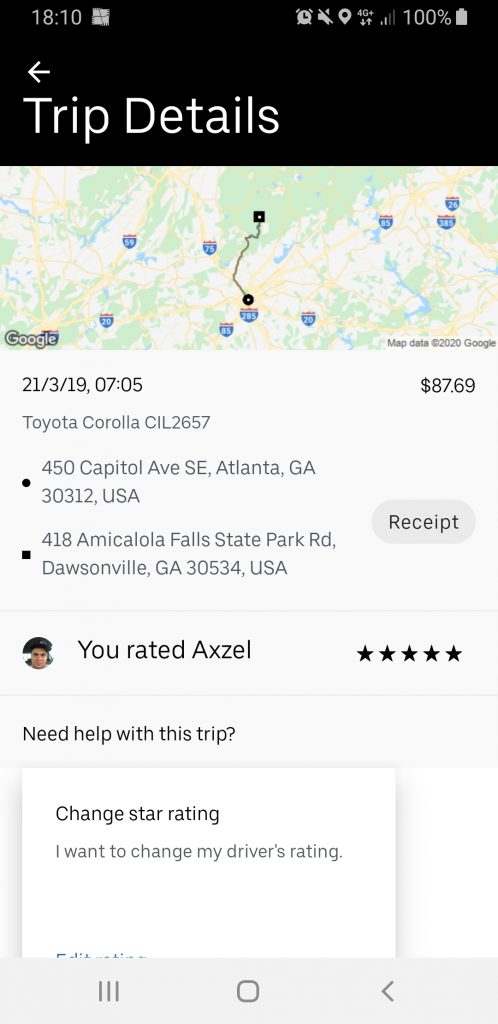 I stayed at Ramada Plaza by Wyndham Hotel for the night in Atlanta City. The night before my start date I pre-ordered my Uber to pick me up at 6am. Zero hassle, straight from my hotel door to the Amicalola Falls Lodge.
This is a screenshot from the Uber app for my there.
It took the bones of an hour and cost me $87.69. This is expensive but you'll see below actually works out cheaper and easier than many options.
So, considering the ease, reliabilty, comfort, price and peace of mind I think an Uber is the best option.
You can sign up to Uber here (and if you use my invite code you'll get a discount on your first trip!).
Other Travel Options
Besides Uber there are many other options too. This table gives an overview of them all and I go into more detail below too:
Transport Type
Direct?
Price
Reliabilty
Uber
Yes
$80 (approx)
5/5
Greyhound + Taxi/Shuttle
No, 1 change
$30 (approx)
+
$40 (approx)
3/5
Amtrak + Taxi/Shuttle
No, 1 change
$14 (approx)
+
$40 (approx)
3/5
Shuttle (airport pickup)
Yes (may require other pickups)
$100 (approx)
4/5
Shuttle (North Springs MARTA Station pickup)
Yes (may require other pickups)
$80 (approx)
4/5
Hiker Hostel (North Springs MARTA Station pickup)
No but includes 1 nights accom
S210 (approx)
5/5
Hiker Hostel (Gainesville pickup)
No but includes 1 nights accom
$165 (approx)
+
Bus/Train
5/5
HitchHike
Who knows!
Free
1/5
Get a ride with Trail Angel
Probably
Free + tips & gas
3/5
Transport Options From Atlanta to Amicalola Falls State Park
Greyhound Bus to Gainesville
From whereever you are in Atlanta head to the Bus Depot ( see map). If you take the MARTA train to Garnett Station, turn left to Forsyth Street, you see'll the Bus Depot there.
From here you can get a bus to Gainesville, GA. This will cost around $30 or so. You can check the prices/timetable here (Greyhound.com) or call them on 1-800-231-2222.
AmTrak to Gainesville
The AMTRAK station in Atlanta is Peachtree Station:
Once at the station you can take the train to Gainesville. You can call AMTRAK at 1-800-872-7245 or go to Amtrak.com to check schedule and prices. Prices will be around $14 or so.
From Gainesville to Amicalola Falls Park
Gainesville, GA is the closest town to the Amicalola Falls State Park with public transport options. Dahlonega is closer but has no public transport options.
So once you're in Gainesville you can get a taxi or Uber or find a shuttle to the state park. More on Shuttles below.
If you need a place to stay there is a Motel 6 across the street from the Greyhound Station that runs at around $60 per night.
Alternatively you could stay at the Super 8 Motel, which costs around $80 a night or at the Hilton which is around $130+ a night.
Barefoot Hills: Hiker Hostel
Another option, from either Altlanta or from Gainesville, is to use a hiker hostel such as Barefoot Hills, which offers it's own thru-hiker package.
They offer pickup from either North Springs Marta Station in Atlanta or from the bus depot or Amtrak station in Gainesville.
You then stay the night at their hostel, a bunk in a dorm is the cheapest option but they offer many premium options too. Breakfast is included in the package.
The next morning they'll then drop you off at either Amicalola Falls or Springer Mountain.
This is a convenient but fairly pricey option, in my opinion.
For example, if you stay in a dorm bunk, get picked up from North Springs Station and dropped off at Amicalola falls this would cost: $210
With a pickup from Gainesville, instead of North Springs Station, the cost would be: $165
It's pricey but if you're just looking to book one thing and have everything covered then this might be the best option for you.
Hitchhike
Hitchhiking is legal in the state of Georgia, so in theory you could do it. Hitchhiking on highways or interstates is illegal for safety reasons. You can see more info here.
Either way this would be a very unreliable way of getting to the trailhead. If you are on a superlow budget and time isn't an issue, you could try it!
Get a Ride With Trail Angels
If you're lucky enough to come across a Trail Angel in Atlanta or the surrounding areas they might agree to drive you out to Amicalala Falls.
The best way to find a trail angel, off the trail, is probably to join your specifc year group on Facebook and then post a message there asking if anyone would be able to give you a lift on a given date.
You could see if others and starting on the same date and team up together, a Trail Angel might be more inclined to help if there a few hikers in need instead of just one.
In theory this could be entirely free. However, I would suggest offering to cover the price of gas and give the Trail Angel a tip too.
Book a Shuttle Driver
Another option is to organise your own shuttle or find a shared one if you want to cut costs.
There are many shuttle operating in the Atlanta area. Though the list, and where they shuttle to, changes every year.
Check out our list of A.T. shuttles in the Georgia area. These shuttlers will be well used to dropping thru-hikers off at the start of the trail.
So you'll need to check in advance with a particular driver to arrange a date and time etc.
An annoying option with most shuttles is the lack of upfront pricing and very little digital presence. So prices can vary for the same service.
You'll have to call or email in advance and double check the details.
Shuttle drivers set their own prices so it's hard to give an exact cost. However, a rough estimate of a shuttle price from Atlanta would be $100 from the airport or $80 from the North Springs MARTA Station.
Don't Stress The Little Stuff
A key skill for any thru-hike is adaptabilty. Things will change on the fly and you'll have to adapt.
So, if you find yourself in Atlanta and your transport plans all fall through, relax. There are plenty of options to get to Amicalola Falls or Springer Mountain.
You'll be walking through that arch and starting your thru-hike come rain or shine. So don't sweat the ubers or trains or buses or shuttles, you'll get there somehow!