With the PCTA recently issuing PCT permits again for 2022 a long distance hike in the USA is beginning to look possible again for many international thru-hikers.
Now, strictly speaking having insurance is not a requirement for doing a thru-hike. However, during a global pandemic it's highly advised!
Currently, a lot of the usual insurance companies have a proviso that if your resident country, so in my case Ireland, has a travel advisory on the country you're going to e.g. 'avoid non-essential travel' then that effectively nullifies the travel/health insurance.
Thankfully, I found an option that is actually perfect for thru-hikers, even post-Covid.
SafetyWing Nomad Insurance is designed for people who are geographically nomadic.
I thru-hiked the Colorado Trail in 2021 and used a combination of Safety Wings and The American Alpine Club membership to make sure I was fully covered for a reasonable price.
The reasons why this is perfect for any international thru-hiker are:
You Pay Monthly, Not Upfront
It can be paid monthly, like a subscription, instead of all upfront.
This is ideal because you don't know exactly how long your hike will take you.
Also, it's a frank reality that getting injured or quitting for any reason is statistically quite probable. You could sprain your ankle after a month and then be forced to head home.
The monthly price is around $77 (at the time of writing and might be different for you depending on circumstances).
So in that scenario it's much better to have paid monthly rather than 6 months upfront. If you need to head home you just cancel your subscription. This could potentially save you hundreds of Dollars or Euros.
For example, in 2019 I quit my AT thruhike after 5 weeks to go traveling elsewhere but I had paid for 6 months of US travel/health insurance already upfront. That money I had spent on US insurance could have covered my flight home.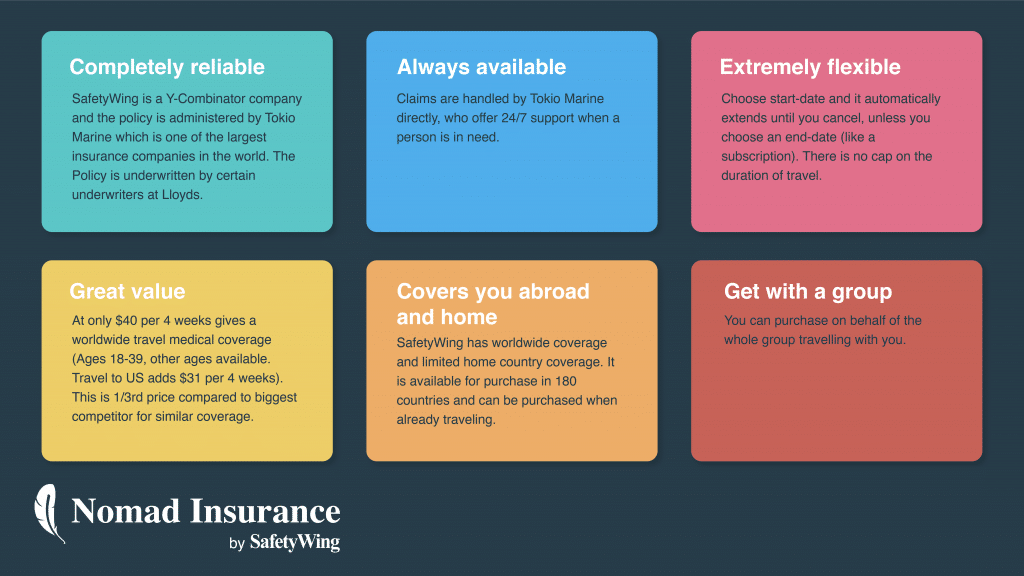 Covers Hiking Up to 4,500m (14,700 feet)
The SafetyWing policy covers hiking up 4,500m or 14,700 feet.
The highest point on the PCT is Forester Pass which is 4,009m or 13,153 feet. Mt.Whitney isn't technically on the PCT but many thru-hikers climb it. Mt. Whitney is 4,421m or 14,505 feet so Safety Wings covers this altitude too.
The highest point on the A.T. is Clingmans Dome which is 2,025m or 6,643 feet.
The highest point on the CDT is Grays Peak in Colorado which is 4,352 m or 14,278 feet.
This means thru-hiking the triple crown trails is covered. In fact, since Mt. Whitney is the highest point in the continental USA, SafteyWing covers any non-technical hike in the lower 48 states.
Covers Covid-19 Regardless of Country of Residence
The SafetyWing policy covers Covid-19 like it was any other illness.
You are covered within the policy limits anywhere outside of your home country except for the excluded countries of Cuba, Iran, Syria, North Korea.
The Nomad Insurance plan provides coverage for COVID-19, the same as any other illness. As long as it was not contracted before your coverage start date and does not fall within any other policy exclusion or limitation.
Testing for COVID-19 is covered if it's medically necessary and ordered by a physician. The antibody test is not covered, as this is not medically necessary.
Their policy covers up $250,000. In the unlikely event you're hospitalized for Covid-19 the average cost is $51,000 to $78,000, based on age.
Best Insurance for the AT and PCT
If you're an international thru-hiker in the age of Covid-19, and even beyond, the SafetyWing Nomad Insurance covers everything you'll need.
If you want even more robust insurance, you can also upgrade to the Remote Health option. This is more expensive but has even better coverage.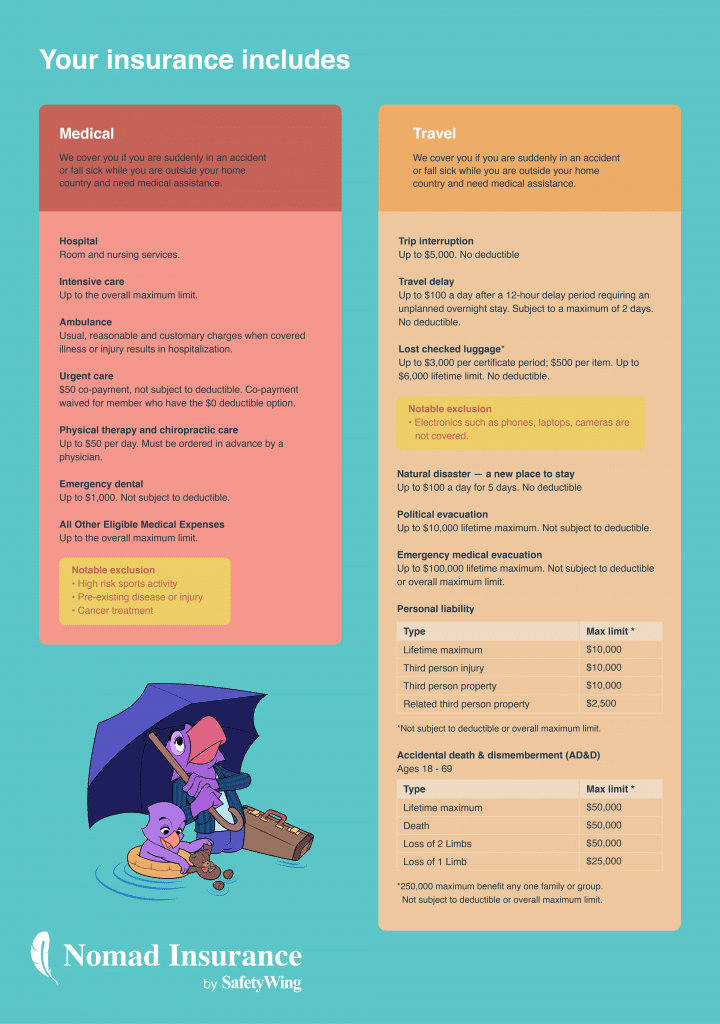 Extra Insurance For The Mountains With The American Alpine Club
Safety Wings is perfect for travel and health insurance and does cover accidents in the mountains but some thru-hikers, myself included, want extra precautions and explicit coverage in case anything happens in the mountains.
If you want a more robust form of insurance that explicitly covers things like mountain rescue and helicopter extraction I would recommend joining The American Alpine Club.
The AAC is a non-profit organization designed for hikers, climbers, alpinist, mountaineers. Thankfully, you don't need to be a US citizen or resident to join.
If you join the club you get a bunch of great perks such as gear discounts, special mountain hut access, a pretty dope t-shirt and most importantly a rescue benefit:
AAC members receive rescue benefits ranging from $7,500 to $300,000 and $5,000 in medical expense coverage depending on membership level.

-American Alpine Club
For $100 you can get the 'Partner' membership for a full year and this will give you the $7,500 rescue benefit.
When I thru-hiked the Colorado Trail in 2021 I used the combo of Safety Wings and American Alpine Club for my insurance.
Whilst I, thankfully, never had to use either I felt I had plenty of coverage if the worst were to happen.
Safety Wings & American Alpine Club Combo Costs
Safety Wings comes in at $77 per month (might be different for you).
Unfortunately for the American Alpine Club there is only an annual membership, not monthly.
If you plan on hiking for 6 months though this works out at a reasonable $16.66 per month.
So if you're doing a long hike like the AT or PCT you average insurance costs would be around $93 per month.