I'm 6ft2 (188cm), so when Zpacks announced they were bringing back the Altaplex I was very excited.
I have been using the Duplex for a while but found I was just too tall for it. I'd either wake up with a wet footbox or a wet head.
So, I sold my Duplex and decided to buy the Altaplex instead. The only problem was the Altaplex requires a trekking pole that extends to 56″ (142cm).
Ever since I started hiking I had been using the Leki Micro-Vario Trekking Poles. Believe it or not these are the only trekking poles I've ever owned!
My past self got one thing right, I bought quality first time round. They're actually perfect except for one fatal flaw, they only extend to 130cm.
I'm sure many new altaplexers are in the same situation.
So, I set about researching which trekking poles are best for tall people and also extended above the required 56″ (142cm) for the Altaplex.
Criteria for Best Pole for the Altaplex
The two main criteria are simple.
First and foremost, it's got to be a great trekking pole. We're not sacrificing the main use case of the trekking pole just to pitch a tent.
Secondly, it's got to be tall enough to pitch an Altaplex.
Every pole on this list meets these two basic criteria and many have some great additional features too.
Below I'll go in to more depth on each of them to help you decide which is best for you and your particular hiking style.
Top 7 Trekking Poles For Altaplex
Trekking Pole Specs Overview
| Trekking Poles | Max Height | Weight* | Price** |
| --- | --- | --- | --- |
| Leki Khumbu | 145cm/57″ | 278g/9.8oz | $130.00 |
| Leki Civetta Pro | 145cm/57″ | 310g/10.9oz | $139.95 |
| CNOC Telescopic, EVA Grip | 158cm/62″ | 265g/9.2oz | S189.99 |
| CNOC Telescopic, Cork Grip | 158cm/62″ | 210g/7.4oz | $199.99 |
| Zpacks Carbon Fiber | 142 cm/56″ | 190g/6.7oz | $99.00 |
| Mountainsmith Trekker FX Lite Monopod | 150cm/59″ | 269g/9.5oz | $59.95 |
| Komperdell Camera Staff | 150cm/59″ | 306g/10.8oz | $72.99 |
*per single pole
**per pair, prices may vary over time
Alternatives to Buying New Poles
Before we talk about buying entirely new polls, there are some cheaper other options.
Pole Jack / Extender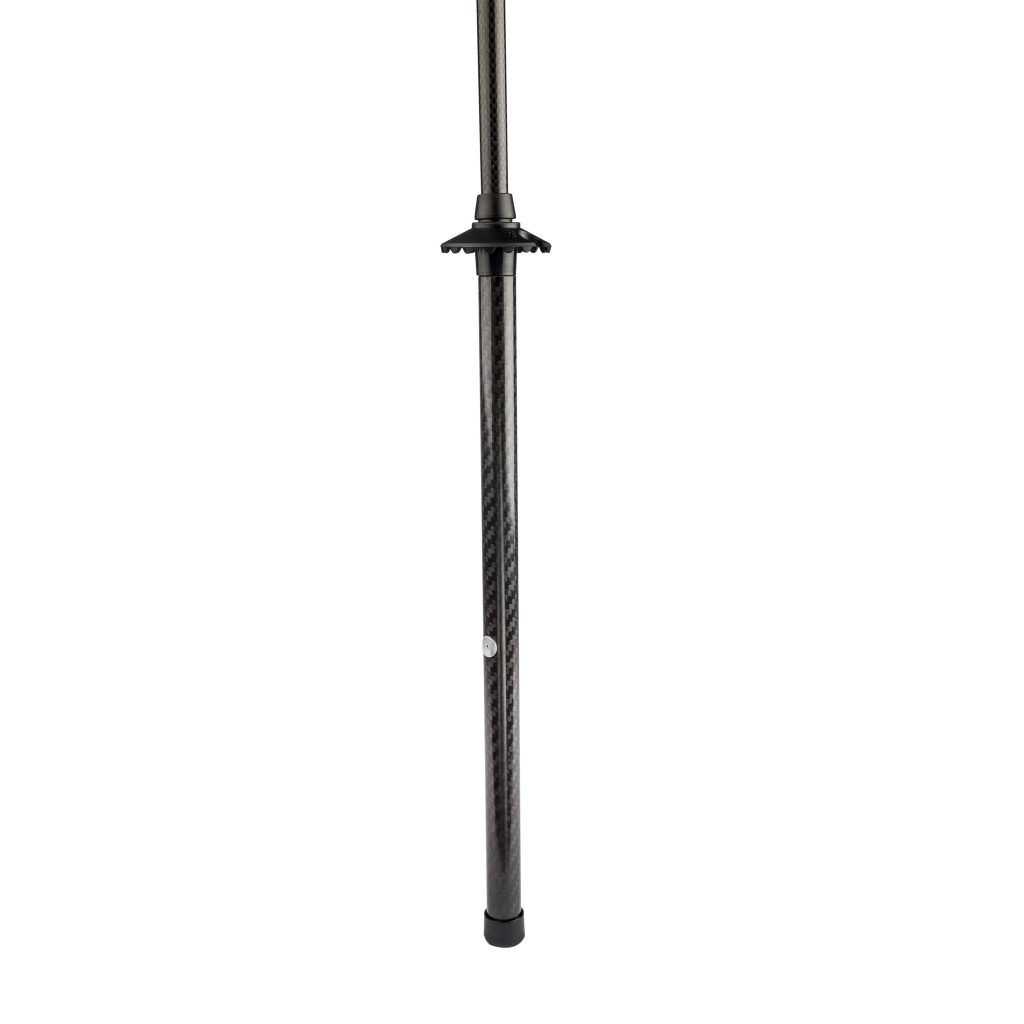 Zpacks offer a 'Pole Jack' that you can use to extend the height of your trekking pole.
This allows you to keep your existing trekking poles. If you don't mind another another piece of gear in your pack then it could be a viable option.
If you are considering going with this, there is a much cheaper one on Amazon.
Trekking Pole Hitch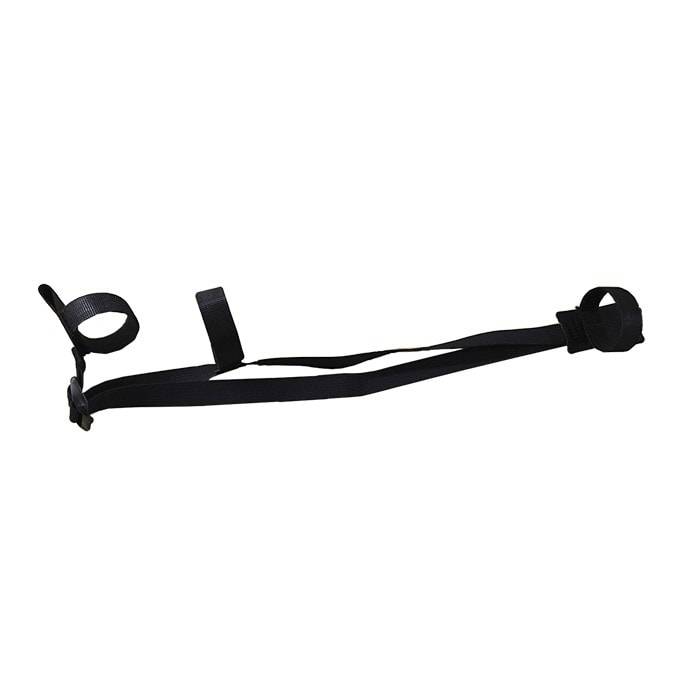 The Trekking Pole Hitch option is a great ultralight and cheap way of using your smaller poles to set up the Altaplex.
Essentially the pole hitch enables you to securely tie two poles together for much higher length.
Only drawback here is that it will take two poles to pitch your Altaplex instead of one. For most hikers this won't be a concern but if you're an exclusively one pole hiker this won't work for you.
This only adds 1.2oz to your pack and costs (as of writing) $9.95. You can see a demo video here:
Best Altaplex Trekking Poles In-Depth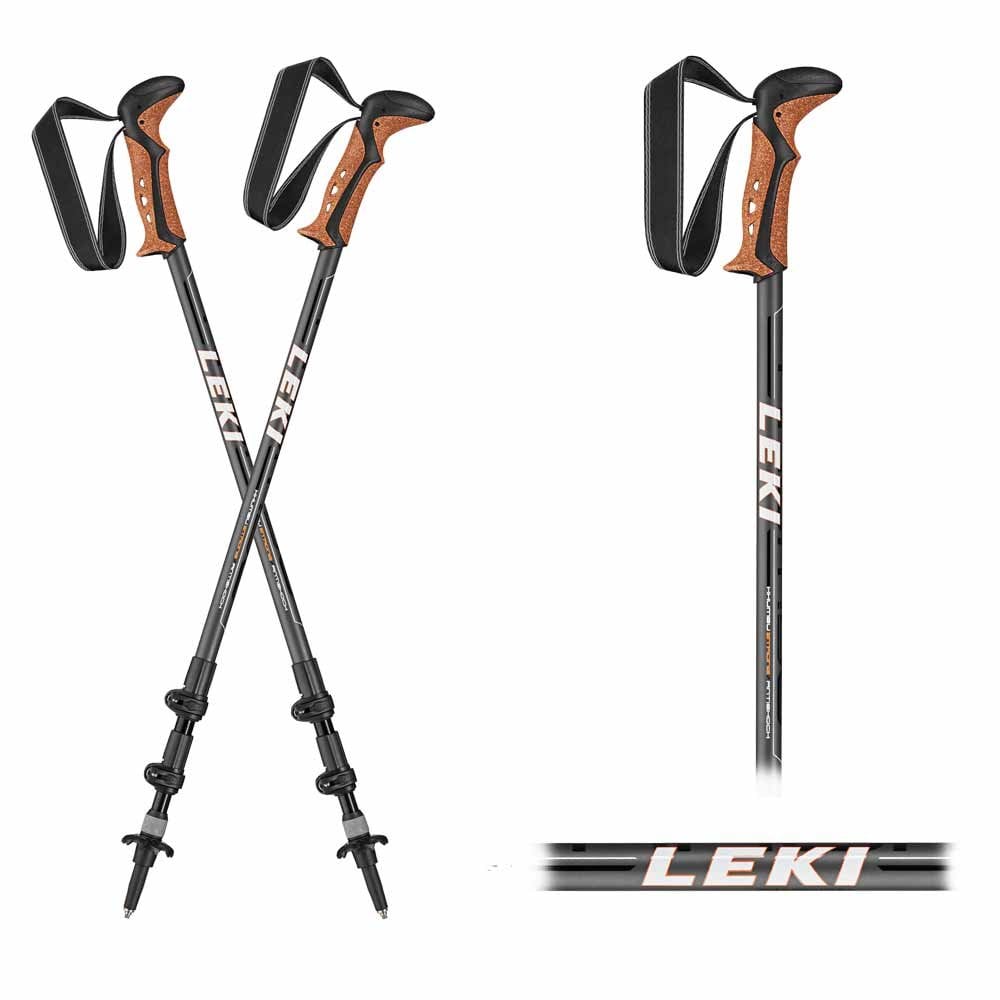 Leki is a world leading brand and the Khumbu AntiShock Trekking Poles are a part of their superstrong range. These are one of their most robust poles so you can expect quality and durability.
They'll be perfect for pitching an Altaplex as they can be extended up to 145cm, 3 cm above the minimum required.
The Khumbu also has the option of a unique feature called DSS (Dynamic Suspension System). Leki say this can reduce the maximum impact on your body by 40%. This would be ideal for any thru-hiker or any older hikers out there. Heck anyone who just wants to reduce stress on their joints and ligaments and reduce the chance of injury.
The handle grip is made of Cortec which is partly made of natural cork. The Cortec is ideal for handling sweaty hands on hot days. The grip has an Aergon design which is ergonomic, smooth and comfortable. The poles also include long straps which has an in-built safety release system.
The pole has 3 sections that use the Speed Lock + system. Each section can be extended and the Speed Lock+ is easy enough to with gloves on or in the rain.
The poles are made of 100% Aluminium (HTS 6.5). This makes them very strong but lightweight: 278g each.
Price-wise they come in very competitively. Not the cheapest but not the most expensive. You can pick them up here.
Leki Civetta Pro
If you're hiking in cold wintery conditions primarily the Leki Civetta Pro could be the best option for you.
It's a 4 season pole, heat-treated to be one of the most durable and reliable poles in the world.
It has all of the great Leki features like Aergon grip, speedlock, Carbide flextips , interchangable baskets etc.
Even with all these features they are still lightweight at 310g per pole. This makes them the heaviest pole on this list. However, they are also the most durable.
If don't do a lot of winter hiking one of the other poles might be a better option.
CNOC Telescopic Trekking Poles (EVA/Cork)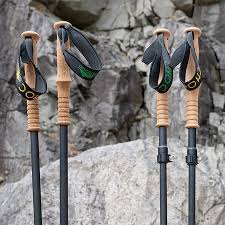 The CNOC poles are essentially both the same just with different handle material.
The cork handle is lighter and a little more expensive. However, both of these polls are very expensive.
They cost 1/3 of what the Altaplex tent itself does!
CNOC does say these polls are designed to be the only ones you'll ever need (but they all say that really). These poles are only available for pre-order and while they look great, I'd rather hear some hands on reviews about them first before spending $200 on them.
The poles themselves are made of carbon fiber. They have 3 collapsible tubes and can extend up to 158cm, a full 16cm more than the minimum needed for the Altaplex.
Zpacks Carbon Fiber Trekking Poles
Of course, Zpacks make the tent so you would correctly assume their poles would be tall enough to pitch the Altaplex.
The Zpacks poles extend exactly 143cm, which is exactly what they recommend for the Altaplex.
(This is just a little too coincidental for me, to be honest. I'd the expect the Altaplex would be fine to pitch with heights a little above this and a little below it.)
The poles themselves are made of carbon fiber and have a foam handle.
Price-wise they are $100 for the pair, which is mid-range pricing (rare for Zpacks).
As you would expect they are very light coming in at 6.7 oz, making them the lightest on the list.
So, if going ultralight is your aim then these might be your best option (even though trekking poles don't count towards your base weight).
Komperdell Camera Staff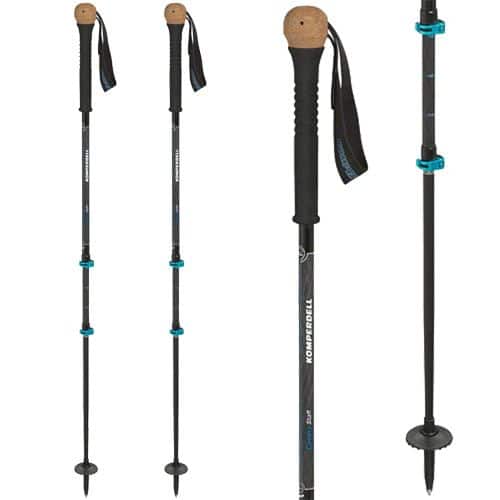 The Komperdell camera telescopic staff has a removable cork handle that hides a simple camera mounting tripod screw.
This is an interesting hybrid pole. Each pole can be converted to a monopod with the tripod screw on. So if you're shooting photos or filming on trail this on could be a great option.
The pole itself is made of both aluminum and carbon fiber. The lower portion is aluminum giving it that extra strength and the top portion carbon fiber, making it lighter.
It has a foam bottom grip but also a cork top handle which is very nicely for palming during steep descents.
It extends to 150cm, a full 8cm above what the Altaplex needs.
This comes in as one of the cheaper options but is also very higher quality.
Mountainsmith Trekker FX Lite Monopod
Another pole/monopod option for all you photographers/vloggers out there.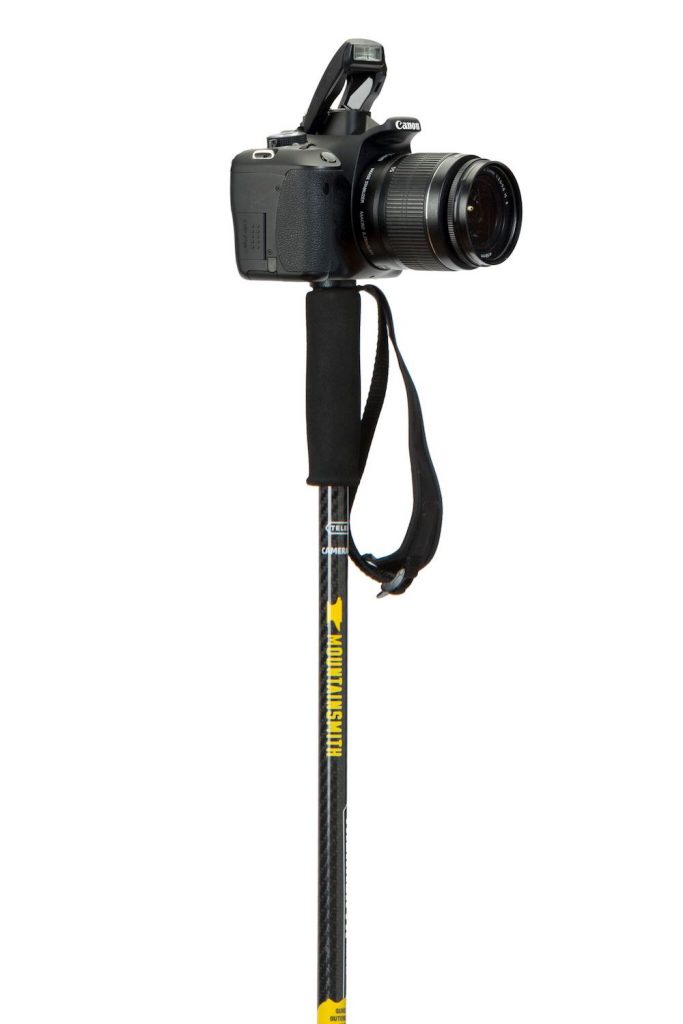 It has a removable handle cap that houses a 1/4 inch threaded bolt for securing a camera.
It can carry a camera of 3lbs (1.4kg) so a great option if you're bringing a big DSLR or Full-Frame Mirrorless Camera.
This one comes in a little lighter and little cheaper than the Komperdell option above. Which makes it the cheapest option on this list.
Similar to the Komperdell it has Carbon fiber upper pole and Aluminum bottom, giving it a great balance of durabilty and lightness.
Choose The Right Pole For You
With the Altaplex as your tent your trekking poles options are curtailed a little but there are still plenty of options to choose from (many more than are on this list).
However, the poles on this list are all quality trekking poles in their own right. They also just happen to extend particularly high.
So don't choose your trekking poles on their height alone. Choose a pair that suits your own circumstances.
Personally, I went with the Leki Khumbu poles because Leki is such a well-trusted, tried and true brand and the anti-shock feature will hopefully reduce the chance of injury on longer hikes.
If you have any questions on any of these poles let me know.